FRANCE #B10 SCARCE Mint - 1917 5fr + 5fr War Orphans ($1,600)
« Back to Main Page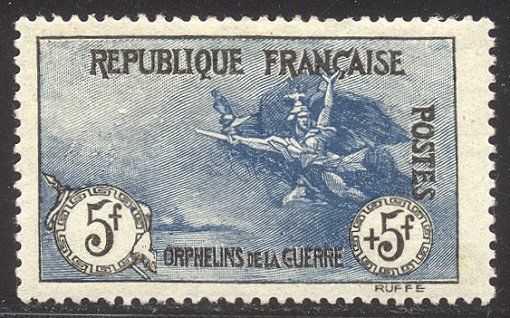 Auction End date
15 Oct 2016
Seller Location
Ankeny, Iowa
Item Description
Scott #B10: 1917 5fr + 5fr War Orphans

Scott Catalogue Value: $1,600.00
Centering & Condition: Mint. Fresh. Very Fine and Scarce. Reverse (Gum Side): Original gum. Hinged. Faults / Imperfections: None

I will be happy to provide a picture of the back of any item (except for larger lots and collections) provided the request is made at least 24 hours before the close of the lot.

All invoices for multiple purchases will be sent after the last sale of the day.

Note that, in most cases, I do NOT mark items shipped within Ebay's system nor is tracking provided UNLESS your invoice total is over $100 or you specifically request and pay for it if it is less than $100.
The item pictured is the actual item you are bidding on, unless otherwise noted.You may combine purchases over the course of 7 days. If I have other items of interest to you in the coming week, please feel free to wait until those items end and I will combine all of your purchases in one invoice.
Please note the postage quote for this item. I will combine multiple purchases by adding 50c for EACH additional item to the HIGHEST quoted item and then adding a $1.00 handling fee to the total. If your total purchases exceeds $100 I will ADD $3.50 for insurance (or $14.00 if shipping is overseas) - there are NO exceptions to this requirement (in some cases I have already built this figure into the quote). If you do not agree with my postage quotes, please adjust your bids accordingly or reconsider bidding.
All items will be mailed a day or two after payment is received.
To see what other auctions I have currently running please click Here
--------------------------------------------------------------------------------
Please click any of the following to read:


My General Terms
How I Figure Postage
About Getting This Stamp Expertized
My Grading Scale
NEW! My Ebay Guides including how to detect
........... Reperfed and Regummed Stamps.
My F.A.Q.
My Grading Rant
My Professional Service To Sell Your Stamps
Some of My 65,000+ Feedback Comments
About My Negative Feedback Comments
Unblock My Emails!

Suggested Websites

Stamp Smarter! (Protect yourself from Bad sellers)
Stamp Collectors Against Dodgy Sellers
APS Website


APS # 207122
Another Quality Offering from

Click on the above Logo to visit my store
and check out the other great material
I have for immediate sale.
Copyright © 1996-2016 Southwest Stamps
Bonus: PayPal buyers get complimentary access to gsquared7's weekly newsletter.